WIGAN METROPOLITAN UNISON
'END AUSTERITY NOW!' DEMONSTRATION
Our UNISON branch has contributed to the hire cost of a coach to London on Saturday 20th June to join the Anti-Austerity National Demonstration organised by the People's Assembly. Alongside other local trade unionists, this is our opportunity to send the clear and simple message to the government that we demand an alternative to austerity and to policies that only benefit those at the top. The services we have left are at breaking point. ENOUGH IS ENOUGH!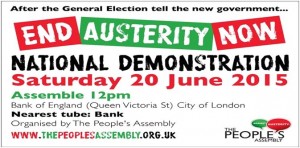 To book your seat ring UNISON now 07494175202 or 01942 235797
Or email 'retiredmembers@wiganunison.org.uk'.
Please give your name, workplace and a contact telephone number so your seat can be confirmed.
Transport is free for UNISON members and you need to book by 12th June.
Transport information
Assemble at 7am Parson's Walk opposite Wigan and Leigh College. We should be back in Wigan by 10pm at the very latest. If there is demand, the coach will also pick up in Leigh.